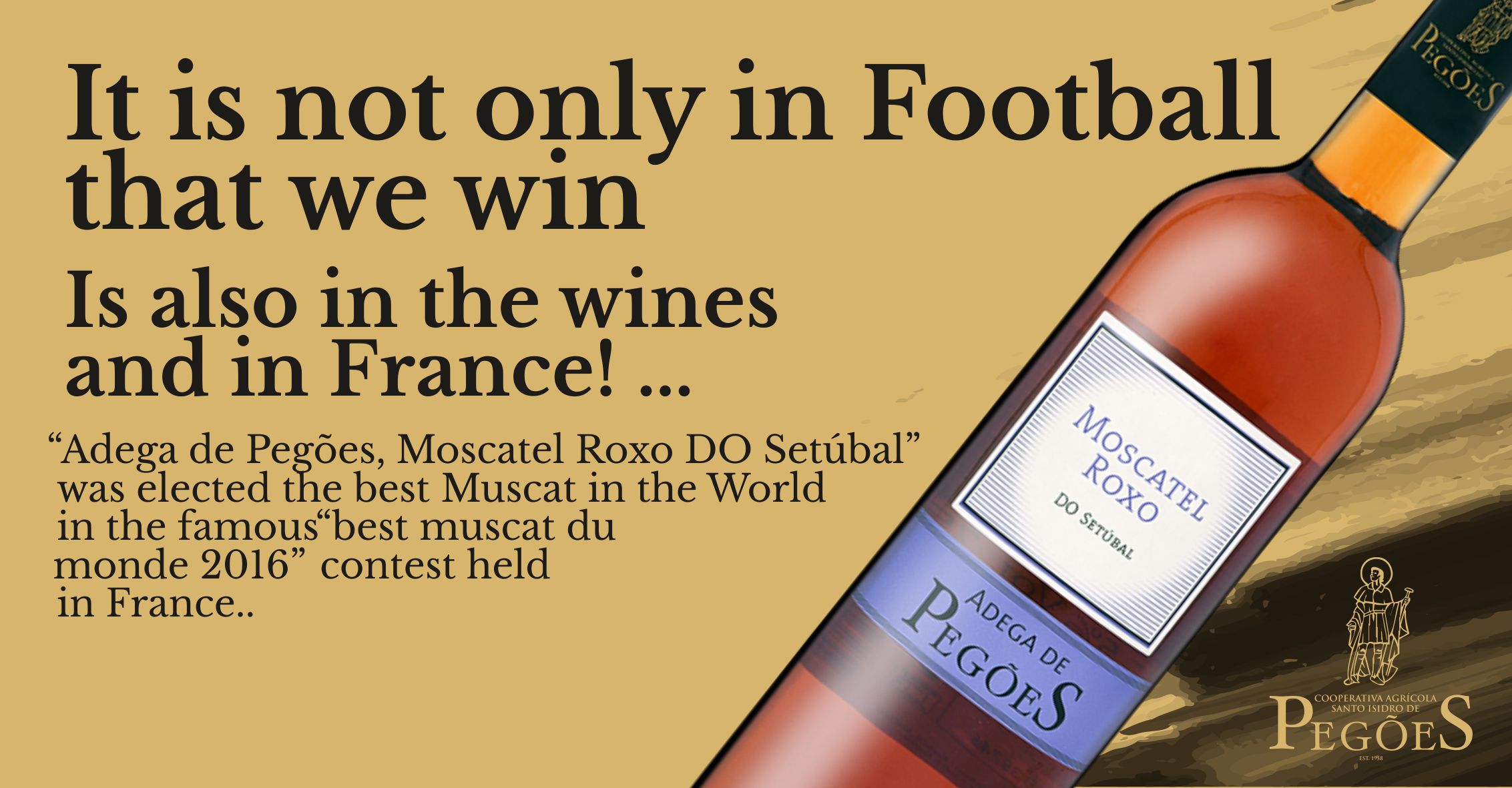 It is not only in Football that we win
is also in the wines and in France! …
It is with great pleasure that we inform you that the wine "Adega de Pegões, Moscatel Roxo DO Setubal" was voted the best Muscat in the World in the famous "best muscat du monde 2016" competition held in France between 29 and 30 June.
It is noteworthy that in addition to the Pegões Muscat, the region of Setúbal obtained even more 2 in the top 10, 5th place – Purple Moscatel de Casa Ermelinda Freitas and 10th place for the Purple Moscatel de Sivipa. This contest, which is held annually and which is already in the 16th edition, in addition to elaborating the annual TOP of the world 's moscateles (10 best) still awards the remaining ones that do not reach TOP with Gold and Silver medals, having there the Winery of Pegões won another 2 gold, Casa Ermelinda Freitas one more gold, Sivipa one more gold, Venâncio da Costa Lima one gold, Winery one Favaios one gold, and Bacalhoa Wines and Adega de Palmela a silver medal, this From Portugal.
Already in 2011 a Portuguese muscatel had won this prize and was also from Setúbal the "2016 reserve of Venâncio da Costa Lima", but with a "Moscatel de Setúbal DO of white grape (muscatel of Alexandria), this being the first time A Purple Muscatel, the new fashion of the muscatéis, wins this trophy.
The Adega de Pegões is located in the South of Portugal and is one of the most awarded Portuguese Wineries in the last decade, with more than 500 awards worldwide. Recently it was the most awarded Portuguese company in the "Portugal Wine Trophy 2016" (organized by a German entity) or in the "Selezione del Sindaco 2016" (Italy) and even here in the Contest "Golden Grape", where it obtained 21 Gold medals.
Please do not hesitate to contact us if you have any further questions.